There are so many reasons why Lindsay Lohan is a cheap imitation of Paris Hilton. Instead of jumping to conclusions, let's work this one out.
1. Mug Shot Competition.
All of the celebrities know that your mugshot will be plastered all over the internet. You can either have a fanstasically bad mugshot like Nick Nolte or you can go the glamorous route. Both Paris and Lindsay decided for the latter. Which is kind of a shame because the crazy hair thing that Nick Nolte has going on in his mug shot would look fantastic on either one of these ladies. Lindsay Lohan should have lots of practice getting her picture taken in an impaired state and yet she lets them take a picture of her looking like a slacked-jaw yokel. Come on, Lindsay, this isn't your first time at the rodeo! Paris, on the otherhand, really works it. She poses for the camera so that her mug shot can be its very best.

Mug shot competition goes to: Paris



2. Driving Competition.
Both of these girls got popped for DUI. And both of them got pulled over again over after their DUI for doing other bad stuff. Paris was driving with a suspended license more than once. Lindsay on the other hand went for the gusto and decided to drive around drunk again, with cocaine in her pocket, whilst harassing the mother of the assistant that quit either that day. Paris is no rocket scientist, but even Paris knew better than that. Both can afford to hire drivers or pay for a cab so there is no reason why either of them should have ever been arrested for drunk driving in the first place. Lindsay now has two DUIs. And it appears Paris is no longer the stupidest celebrity on the planet.

Driving competiton goes to: Lindsay.

3. Exhibitionist Competition.
So who hasn't been caught without their panties? Both of these gals have flashed their vaginas around Hollywood. Wheeeeeeeee! But Paris can definitely one up Lindsay in this round. I have four words for you:One Night in Paris. There is nothing like flashing your vagina and other parts in a sex tape.

Exhibitionist Competition goes to: Paris

4. Media Circus Competiton.
This is an interesting round. We know how much people love it when celebrities have to go to rehab. And if you aren't going to stay at the Betty, then by all means go the the resort, I mean, rehab your fellow vagina flasher Britney went to. It was obvious how serious Lindsay was about her recovery because the first thing she did is go to Vegas for her birthday celebration after her release. I know that's where i would go for a sober birthday celebration. Since then, Lindsay has been out and about flashing her SCRAM ankle bracelet. I guess it was really a SCAM. Ha, ha, very punny! But nothing will ever top the dramatics of Paris' parole violation. The courtroom drama, the abrupt release for "medical reasons", the cupcakes during her short lived house arrest, and the return to jail. There is not a damn thing Linsday can do to top this: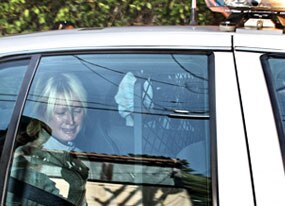 The Media Circus Competiton goes to: Paris

Paris wins!